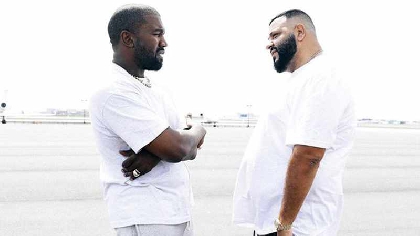 Khaled gracious enough to show fans how his day went with Kanye...
Maybe you didn't know how close Kanye West, the Chicago rap legend is to DJ Khalid, the record executive, and producer. In fact, they're so close that Kanye visited Khalid without giving him notice.
Kanye gave DJ Khaled some company in his Miami home as he prepares to release his twelfth studio album 'Khaled Khaled' on Friday (April 30).
In an Instagram post in which Khalid showed fans how his day went with Kanye, fans see Kanye, Khaled, and Apple Music Head of Content Larry Jackson kicking back in the studio. At the same time, Khalid played a soulful record equipped with thunderous drums and a harmonious choir that had both Kanye and Jackson bumping their heads.
In a second post, Kanye has his arms stretched above him as if he caught something spiritual, but Khaled revealed he (Kanye) was amazed by what he heard on Khaled Khaled.
He added the following to the second Instagram post: "This album GODS HANDS IS ALL OVER IT."
Earlier this week, DJ Khaled announced 'Khaled Khaled' would be dropping on April 30 in an Instagram post. The album cover shows Khaled praying in what looks like a backyard while both of his children, Asahd and Aalahm, stand on either side of him. Asahd and Aalahm are executive producers for the studio album. Asahd has been an EP for DJ Khaled's last two albums 'Grateful' and 'Father of Asahd'.