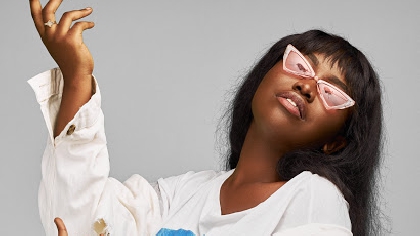 The reception from people was beyond my expectations
For Afrofusion singer Jackline Acheampong, a.k.a Gyakie, a Ghanaian afrobeat/afro-fusion singer - climbing to stardom is somewhat an easy ride.
A few years ago, she received a beat from a Nigerian producer and she wrote a song for it. She didn't think that this would lead to anything more.
"I just went to record the song thinking I would just send it to a few friends and we would vibe around with it, but after the song was released the reception from people was beyond my expectations and made me realize that people wanted more of the voice that they had heard from that song. So I just had to continue the journey that I started."
In February 2019, she released her first single titled Love Is Pretty, and after a few months followed with Never Like This, her most successful work to date.
Gyakie released an EP, The Seed. late last year which features the popular single, Forever.
"I didn't have it in my head that this song was the one to give me an international fan base. I was shocked, to some extent, but at the same time, I knew the song was good and anybody that would hear the song would fall in love with it. The response has been so amazing."
Forever is the #1 song on the Top Triller Chart in Nigeria and she is the first female artist to top the chart.
The remix to the song features Nigerian artist Omah Lay.