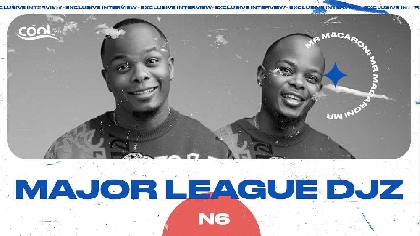 "The crossover was hectic." Major League DJz
Major League DJz share their experiences with N6 on Cruise Control. They talked briefly about the challenge of changing from one genre to the other in South Africa, their success online, why they picked the same vocation as twins...
What did it take the Major League DJz to move from hip-hop to dance music?
We had to show them constantly that we're good enough to do dance music and then get our brand in the dance music space. The idea came before lockdown when we started making mixes and putting them out so people could listen to them. At the same time, we wanted to do a radio show but I didn't have that much time.
The crossover was hectic. Change is not easy. The hip-hop industry wasn't growing in all parts of South Africa.
N6 remarks on how fruitful the mixes were. There were getting upward of 300,00 to one million views online.
What about the car accident?
Actually, we both didn't make it to the event. I really got hurt. I'm okay now but I just want to lose a lot of weight.
N6: I hear you're both here to perform at the beach. Which of the beaches?
Elegushi!
Who's dating Nadia Nakai?
She turns up to be an ex... (so the subject nipped in the bud.)
How did they both get to love being DJs?
It just happened. Even in school, we got the same marks, maybe sometimes it a little different but we always like similar things.
How does it work?
One plays a song now, and then the other plays the next song.
Nigerian DJs spin Amapiano songs like they're spinning Afrobeats or Hip-hop songs. They do a verse on the hook. They kind of don't let the song percolate. Do you guys understand these complaints?
Yeah. It happens everywhere, you know. There's a way you play Amapiano. You play like house music, you don't play it like hip-hop music. You gotta let it spin, there's a lot of dance progressions.
Get the full gist. Play the video below.
Major League DJz is a South African hip-hop/kwaito music band consisting of the twin brothers Bandile and Banele Mbere. The duo has completely revolutionized kwaito music into the modern urban culture of music.