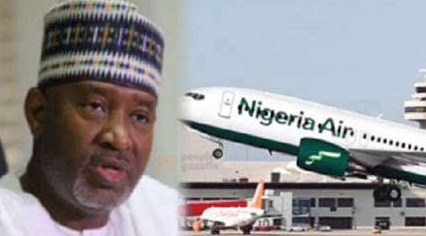 Other news
We are informing you that; the Federal Government has assembled a legal team to challenge domestic airlines suit seeking to stop the establishment of a proposed national Carrier-Nigeria Air.
Federal Government legal team and a 10-man group representing the domestic airlines, will meet in court on Thursday here in Lagos.
=====================
Lagos State Government has directed the Health Facilities Monitoring and Accreditation Agency,to conduct investigate allegations of sexual abuse at Optimal Cancer Center, Lagos.
The state Commissioner for Health, Prof Akin Abayomi, gave the directive, following a video that surfaced online.
======================
Nigeria now ranks 7th, down from 5th place on the Organisation of Petroleum Exporting Countries.
Nigeria's output for the month of October was 1 point 014 million barrels per day, ranking seventh after Saudi Arabia, United Arab Emirates, Kuwait, Iraq, Angola and Algeria.
======================
The Secretary-General, International Maritime Organisation Kitack Lim says maritime nations need finance to invest in fossil fuels.
Lim said this at the 2022 Nigerian International Maritime Summit held here in Lagos.
He noted that this would help reduce carbon footprint in the environment.
The World Health Organisation says it is working to compile an updated list of priority pathogens that could cause future outbreaks or pandemics.
WHO in a statement said the agency would convene over 300 scientists to consider the evidence on over 25 viruses.
The experts will recommend a list of priority pathogens that need further research and investment.
======================
Rapper Lady Leshurr has denied attacking her ex-girlfriend and another woman during a fight in east London.
The Birmingham-born artist, real name Melesha O'Garro, is accused of assaulting Sidnee Hussein and Chante Boyea in Leyton on 22 October.
She appeared at Snaresbrook Crown Court where she denied two counts of assault occasioning actual bodily harm.