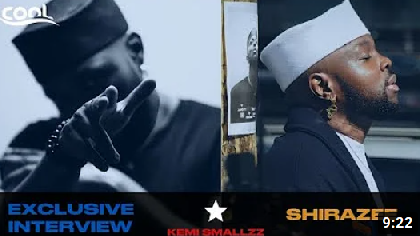 I could not believe it was actually me and Sting on the song - Shirazee
Shirazee has been to many places in the world. That's why he calls his music Bipolar type of music at this point because he can sing anywhere and still be relevant.
Talking with Kemi Smallz on The Night Show, which airs on 96.9, Cool FM, says the relationship with Sting started "years back when I first got into music. I wrote a song that he recorded. Basically, when you hear that song, you won't even think it's an African kid from Benin that wrote it, because it comes from the influences I have had when traveling to different places."
Shirazee has traveled to places like Lagos, Nigeria, South Africa, France, and a host of other countries.
"When I open my mouth to sing, something comes out that I can't explain. It just falls out, and thank God I have this distinctive tone. That's how it happens, and how I have been able to connect to these artists in many places. Some of them won't usually be able to relate with an African kid like me."
Speaking about Sting, "We never met until this year," he says. He recorded my song and he kinda knew my name from that time, but this is the first time we met in person."
'Englishman in New York' is a song that Shirazee loved but he didn't know who sang it. "I've met people who see me for the first time, and they are amazed though they didn't know who I was. So, I have always wanted to do something that explains who I was. Who am I? I'm an African in New York and I've always loved Englishman in New York.
"I thought, why don't I take that and make it something very digestible so that people can know who I am? It came from a genuine place of just me, telling my story. I'm trying to tell other people to start knowing who I am."
It wasn't easy to get the project to Sting, since people around Shirazee said the idea won't fly. He had to bypass them and get Sting on his own. Within 30 minutes of asking for permission to do the song, Shirazee said he got what he wanted from Sting himself.
"That was the biggest compliment for me. It led to both of us doing a Zoom call so that for the first time we saw ourselves together. When he said he wanted to do a version with me, I almost fell off my bed, and I was like what? This is crazy!
"He did it within an hour. I had the vocals back in less than one hour. I could not believe it was actually me and Sting on the song."
Sting and Shirazee got to shoot the video via Zoom.