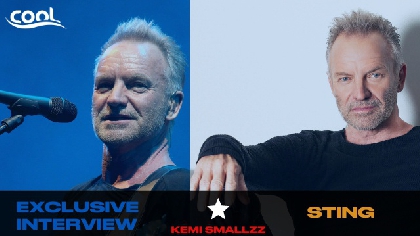 Kemi Smalzz had a brief chat with English veteran singer Sting
English veteran singer, Sting hooks up with Kemi Smallzz for a brief chat about his work with Shirazee on the song 'Englishman in New York'.
The interview, which was aired on 96.9 Cool FM, and posted on Instagram, started with Kemi Smalzz asking how the pandemic affected Sting, to which he said it has been extraordinary because there has been a lot of suffering. But Sting said he was fortunate for not losing anyone very close to him, though others have.
All the while, Sting is busy making music, working every day in the studio with the help of friends who join via Zoom. The Shirazee adventure started on Zoom, Sting says.
"Shirazee called me up and said he recorded a version of my song 'Englishman in New York' and he asked permission if he could put it out as 'African in New York'. I told him I have to listen to it. I did, and I found it was such a lovely African beat and great mood.
"I told him it is a good song but I wanted to sing with him, for it was such a good vibe and a good message. You know people come to New York with dreams and the city embraces you and allows you to be yourself. So, Shirazee was telling his own story about coming from Benin as a kid, living in Brooklyn. My story is about coming from North England and living in New York. That story is available to everyone."
One thing that impresses Sting is that though he never met Shirazee until recently, they have both been having interesting conversations. For him, it is a great way to meet someone and a great way to share.
But a lot of people have done their versions of that same song, so Smallzz wanted to know why the Shirazee version is particularly interesting to Sting.
"There's been Italian in New York," Sting begins, Brazillian in New York, Jamaican in New York, so on and so forth. But for Shirazee, he brought the flavor of where he came from. It sounded to me like West Africa. That was very special for me and I wanted to join in that vibe. It is a great vibe for me. I have a lot of love for Africa and African music. This my way of saying 'Hey, can I come on board too?"'
He also spoke about the original version of the song which was about Quentin Crisp. Sting made a movie with him. In the movie, Sting was Frankenstein, and Quentin was his assistant. Sting had some good time with Quentin, describing him as an interesting man, although he was someone against the law of the land as a homosexual.
"He got beaten up a lot of times, he went to jail, yet through all that tribulation, he was himself. He went to New York at a very old age of 75. He lived in a very rough part of New York at the time, living a flamboyant life because he dressed anyhow he wanted to. So, that phrase, "Be yourself no matter what they say," is very much him.
Sting views that song as his tribute to his friend.
He became an Englishman in New York because he sang the song. But it is really about being who you are, Sting emphasizes. "Each of us has a unique quality that we can show to the world, and we have to be proud of who we are."