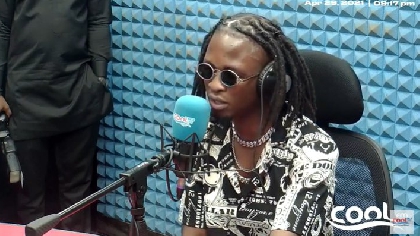 "I have nothing to prove to anybody but myself." - Laycon
Quite recently, Laycon released a new project. "Shall We Begin" is a 12-tracker album with a handful of featured artists like Mayorkun, Teni, Joeboy, YKB, and Terri. Before the official album release, Laycon dropped some banging singles off the project " Wagwan " and " Fall For Me ". The project is available on DSPs like Apple Music, iTunes, Spotify, etc.
He had some moments with Kemi Smallzz on 96.9 Cool FM. Is he under any pressure?
"Everything that has been in my head is music. Nothing else can bother me except music. That's the only thing I've made sacrifices for. It is still a hundred percent the only thing I will make sacrifices for.
"Now that I have an audience that can listen to it and vibe to it, now the kind of music I want to put out is the kind that people can have dialogues around it. I don't want to create music that people will just accept it message because I said it. I need people to actually debate on whatever I say. They have to be able to tell whether the message is valid or true.
"I have nothing to prove to anybody but myself."
After the reality show, Laycon's fan base grew quickly so much so that now he has one of the most loyal following on social media.
"I'm just grateful. Now I always put it in my head that it is bigger than me and bigger than whatever I wanted to achieve. There's a lot of people who put down their money, sweat, and other things, and I can't really let them down. Now, I don't do things for myself anymore, because it is not just about me."
Speaking about his projects, "YBAG", which stands for Young Black And Gifted, is the first of Laycon. That's not what most people think, as "Who Is Laycon?" is thought to be the first, an introduction. There were two projects between these.
"It's not even an introduction," says Laycon, referring to "Who Is Laycon?" "It is like… "Shall We Begin?" Let's start this journey."
He adds that it stands like the first paragraph of any important speech. "I was creating this project while I also engaged in creating stuff for my reality show on ShowMax. I was creating two projects that had two different themes. It was like going out of my comfort zone but I had a whole lot of help from people around me who fed me with energy. I was shooting while simultaneously traveling for a tour with GOTV."
The striking moment in his career occurred when he was working on "All Over Me."
Working on that album helped him to develop another sense of his being because he says he now believes that he has a power that he has not been aware of.
I want my fans to look at this latest project and have an open mind about the angle he presents, and for them to understand that this is just the beginning because there are bigger things coming up.
"We have songs that we are putting out not now but later. They are just there, waiting to be released. So there are loads of other songs we didn't even put on the album, although people may be asking: why didn't you put this; why didn't you put that?"
A weird moment in life was when he needed a break while he sought a unique verse for a track. "I had to take a walk a walk alone on the street to create a song on this album. That's something very risky. I had to put on a hoodie, face mask, and wear shades, and I had to walk on the streets to write a verse because that's what was needed at that time. I had to be in that state of mind to be able to create that song."