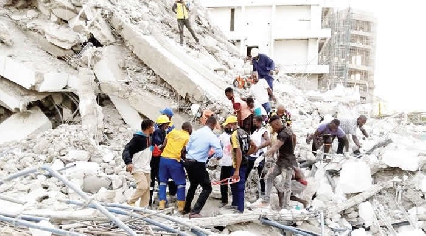 Some believe the deployment isn't necessary
The Federal Government has deployed the Nigerian Army of Corps Engineers to take over operations at the site of the 21-storey building that collapsed in Ikoyi, Lagos State. However, Assistant Zonal Coordinator, NEMA Southwest Zonal Office, Ibrahim Farinloye, told correspondent Ijeoma Esek, that while the State is grateful for the intervention, it believes that deploying the Corp is not necessary, since progress has been made on excavating the rubble.
Meanwhile
One lane of 44 Gerrard road, Ikoyi – the site of the building collapse, has opened. Road users can now ply the road from Osborn road inward Gerrard road, to the Ikoyi Link Bridge.
Still in Lagos,
Vehicular movements around the Stadium axis of Surulere are still restricted until 5pm today. The Lagos State Government says it is due to a scheduled football event between Nigeria and Cape Verde. Vehicles heading towards Costain and Lagos Island are diverted to Adeniran Ogunsanya or Bode Thomas. Traffic congestion around the stadium and adjoining areas are expected.
Finally,
The dress worn by late British singer, Amy Winehouse, during her final stage performance, has sold for more than 243,000 dollars at an auction of items from her estate. The singer-songwriter wore the halter mini dress in Belgrade in June 2011, a month before her death at the age of 27.
It sold for 16 times its original estimate.