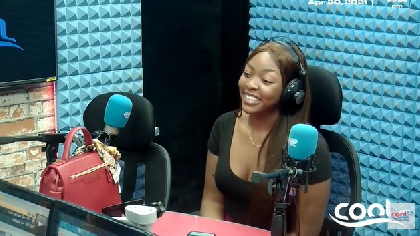 "There's so much going on right now" - Plug
Caramel Plug (Ogechi Ukonu) did not envision being a star. She spoke to Cool FM's Kaylah about her journey through stardom and those things that make life worth living.
"There's so much going on right now. But the thing is I never ever, ever thought this was going to happen, I never saw it coming at all." She tells Kayla on The Road Show. She's still studying at the University of Fraser Valley Vancouver, BC, Canada. She's studying Global Development and Communications.
She's in Nigeria for some projects and maybe heading back to Canada when she's done.
She became popular on Instagram but it hasn't always been that way. Caramel Plug's success was unplanned, she remarks, "that account didn't exist before. I had my normal account before, Caramel Sugar. I was adding pictures, doing YouTube but at one time, everything appeared to me as basic. So I switched things up."
"So you started dancing!" Kaylah chips in.
"It didn't even start that way, says Plug. I Snapchat, putting funny stuff in there. That was where it started, and people would tell me to send them a video because it was funny. That was weird! So one day, I decided to create my account that nobody knew. I created it for myself, and I didn't tell anyone about this account. I posted two random videos. After some time I was going through a story I seeing something about The Game of Thrones, and hearing the movie background song. Every story I clicked on had that song. I was so frustrated and asking why everybody was watching this series. So I went to rant about the series on my Snapchat but I didn't know that somebody recorded it and posted it on Twitter. I was not on Twitter but some friends saw it and told me about it. The tweet went viral but that was it, I told myself. It is just another viral Twitter post. But people still asked me to send the video to them and that made me put it up on my Plug account. I told myself that it is only a temporary thing and it isn't that deep.
"It blew my account. I think I hit like 50k to 75k views in one day. I was scared because my phone stopped working and I was getting a lot of notifications. I posted another video that also got viral. Then I stopped posting for about three months."
She said she had only 10 followers, and that mushroomed to 50k followers. "I was scared," she reveals. But then I came back and posted the Joro video, which got my phone buzzing the next morning. I got about 250k followers."
Other celebs like Don Jazzi and Wizkid have also shared her posts, helping her grow some more.
She is able to make money online now as a social media influencer. "I'm able to do whatever I want to do now."
Is she dating Sydney Talker?
She says no, agreeing with Kaylah that he's her G.
Who else in the industry does she want to work with? She's satisfied. She has worked with or met a lot of celebrities such as AY Makun, Don Jazzy, 2Baba, IK Ogbonna, Sydney Talker, Lasisi Elenu, Twyse Ereme, and many others.
Plug loves fashion, so she has something coming in about three days, she informs Kaylah.
Her advice to others who are searching for success – Be yourself, and follow your own path.
Will she work at the UNO in the future?
She says she hopes so, but as Kaylah felt, Caramel Plug reveals that for many people, she isn't the same person to everyone who knows her.