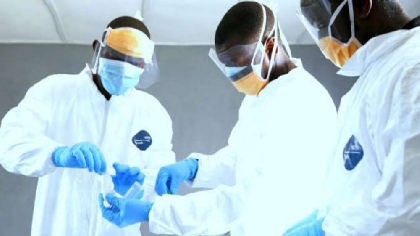 APC news, Anambra news update... More
Let's begin with an update from the Presidential Steering Committee on the coronavirus.

Public service employees in Nigeria will be required to show proof of Covid-19 vaccination or present a negative Covid-19 PCR test done within 72 hours before they can gain access to their offices within the country or its missions.

The Committee also urged governments at all levels to increase their vigilance and take measure to moderate activities in anticipation of an increase in large gatherings due to year-end festivities.
To politics now where the Deputy Governor of Anambra State, Dr Nkem Okeke, has defected to the ruling All Progressives Congress.
President Muhammadu Buhari received the deputy governor on Wednesday at the Presidential Villa in Abuja.

Governor Hope Uzodinma of Imo later told State House Correspondents that he is confident of more defections to the ruling party before the November 6 governorship election.

Uzodinma also faulted that claims that members of the State House of Assembly who defected from APGA to APC were financially induced to join the ruling party.
In a swift reaction, the All Progressives Grand Alliance has dismissed the defection of Dr Nkem Okeke, describing it as inconsequential and long expected.

In a statement, APGA says Dr Okeke had thought the governor and the party were going to hand-over the governorship ticket to him on a platter and when it didn't happen, he started behaving abnormally, even to the point of insubordination and dereliction of duties.

APGA called on party members to remain united and ensure victory in the November 6 governorship election.