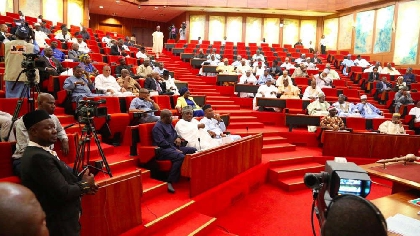 Lagos news, mental health news
The Senate hopes to follow through on the passage of the 2022 Budget by December, just like it did with previous budgets. Senator Ahmed Lawan who is the President of the Senate spoke after the budget passed 2nd reading at plenary today.
It is exactly a year since the End SARS protest and the Lagosians we spoke with have described the protest as a terrible and unforgettable experience. They said they were terrified of the looting and killings that occurred when the protest was hijacked by hoodlums. But others described their experience as amazing because of the people that came together regardless of their age, tribe and religion.
Meanwhile,
The Police in Lagos say they will not allow a repeat of the mayhem that rocked the city last year, in the guise of any anniversary. The Police Commissioner, Hakeem Odumosu, has also given a warning against plans to commemorate the first anniversary of the #EndSARS protests in the state.
And
"Mental health is a real thing." This is the message from 'Nollywood actress Kate Henshaw. Speaking on Nigeria info's Sunny Side, she emphasized the need for people to protect their mental health.