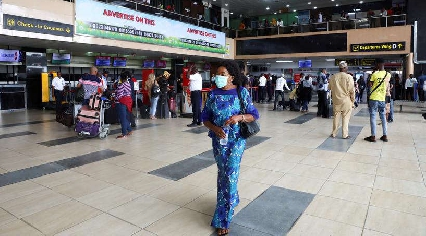 Also: Nigeria's Super Eagles are through to the final play-off round of the 2022 World Cup
A total of 95 Assisted Voluntary Nigerians who were stranded in Libya have returned home. The Returnees who were repatriated with the assistance of the International organisation for Migration, included two infants. So far, about 22,000 Nigerian irregular migrants have voluntarily returned to the country from 17 countries since 2017.
Meanwhile,
We can report to you that both lanes of Ojekule road at Ladipo market, have now reopened to motorists after it was barricaded following the gas explosion that happened yesterday. Our correspondent Emmanuel Onwuka visited the scene yesterday. He reports that sympathisers were seen helping affected shop owners salvage valuables after emergency workers cleared the scene. One of the survivors of the explosion, Obinna Okechukwu whose hand was dislocated in the incident, says he is lucky to be alive.
And
Nigeria's Super Eagles are through to the final play-off round of the 2022 World Cup.
This was after a hard-fought 1 – 1 draw against the Blue Sharks of Cape Verde yesterday at the Teslim Balogun Stadium, Lagos.
After the game, Super Eagles coach, Gernor Rohr says the game was difficult but sometimes a draw can be like a win