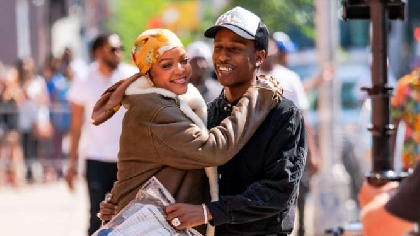 Not sure if the shooting is for his or her music
American singer Rihanna and her boyfriend A$AP Rocky just took their relationship to the next level: immortalizing it in a music video.
Just das ago, Popsugar reported that the couple was spotted filming in the Bronx in New York City, two months after A$AP Rocky officially confirmed their relationship.
Commentators also reacted on how A$AP Rocky couldn't keep his eyes off of Rihanna. The pair were all smiles as they filmed a few PDA-filled scenes, even acknowledging paparazzi.
Some of the cutest moments from the shoot include a few playful nudges, an intense hug, and Rihanna lovingly squeezing his face.
No one is sure that the couple is filming for one of her songs, one of his, or for a collaboration between the two.
It wouldn't be the first time they've collaborated, as A$AP Rocky appeared on the remix for Rihanna's "Cockiness" in 2012 and in her July 2020 Fenty Skin campaign while she appeared in the music video for his 2013 hit, "Fashion Killa."
There are indications that A$AP is "working on some new material."