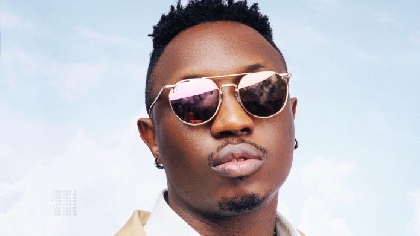 Project features BabyBoyParis & Chike
Earlier this week, Rapper A-Q promised fans that he would release a new music album.
On his Instagram, the 100 Crowns boss wrote that "I had to take off the suits for this one, New Album out this Friday, 21/05/21... Stay with me please."
The album just dropped a few hours ago, a follow-up to his Headies-winning album, God's Engineering. It took "Golden" over a year after the release of his last album.
This new project features BabyBoyParis & Chike, and there are seven tracks in the album.
Having the most powerful voice in Hip-Hop right now means I always have to live up to it. This project is dear to me, and I hope it travels far and is deeply felt by everyone who listens to it.
Ladies and Gents, I present to you, "GOLDEN" Stream/Buy here: https://t.co/4rR4VQzSB0 pic.twitter.com/fQtL75lDZl

— Gilbert Bani (@thisisAQ) May 20, 2021
The rapper announced the availability of the album with a very powerful message on Twitter. He expressed the fact he would always love to live up to his goal of being a powerful rapper, adding that the project is dear to him. Hence, his wish that it becomes a viral album known everywhere...