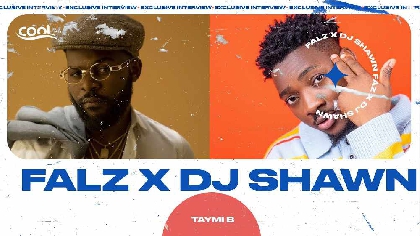 Nigerians should receive 500k each as stimulus checks - Falz & DJ Shawn
Falz & DJ Shawn shared with Taymi B on The Late Morning Show the creative process behind their recent release as well as their thoughts on the current state of Nigeria.
They chat a bit about DJ Shawn's brand new single titled "O Pari" (Meaning: It Is Finished). The song features Falz and Timaya.
Excerpts:
The relationship between Falz & DJ Shawn
DJ Shawn quickly replied "I'm Falz's DJ"
How did the song come up?
According to Shawn, the song was recorded in December 2020. He went to see Falz during Christmas time, he got to hear the song and fell in love with it.
But as Falz said, he and Timaya already recorded the song as a "rough idea" and when Shawn came around he said, "I need this."
He had to beg for it, as he said, while on the interview with Taymi B.
"I thought about it because I knew it was a very strong record," Falz. "Even at a point when we hadn't finished it, it was still a rough idea, but I knew where it was going. I knew it was a gem. But DJ Shawn is worth it."
Taymi: So what are you gonna do for him in exchange? He's helped your life!
DJ Shawn: I'll stand right next to Falz at the next protest.
Falz: How do I cash that?
Falz and DJ Shawn went on to relate how the pandemic affected them. They were not getting gigs, no shows, so people in the entertainment industry were badly affected, Shawn said.
What about money palliatives? Taymi asked. But how much in relief will they want to receive?
DJ Shawn said he wants it to be in pounds.
Taymi: You're in UAR/Nigeria.
Falz: Don't pay me in UAR currency, I don't want that.
But for the creative industry in Nigeria, what should the palliative be for every month? 1m? 500,000 naira?
Get the feeling, the funny aspects of the interview: Click to watch the video below.