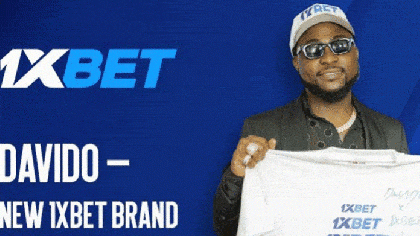 Davido is super excited to be part of 1XBET vision
Just a few weeks ago, Davido was unveiled as brand ambassador to a soap brand. Now, the music icon is revealed as ambassador to a leading betting company, 1XBET as its brand ambassador, Thisday News revealed.
From now on, Davido would be the face of 1XBET in upcoming marketing campaigns and customer engagement platforms.
At the unveiling in Lagos, Chairman 1XBET Nigeria Limited, Femi Babalola, explained that Davido's persona aligned with the brand's vision to maintain its status as a renowned betting company in the world, as well as providing the best online, shop and mobile betting experience in Nigeria.
Babalola said he is proud to announce one of Nigeria's top music superstars as brand ambassador. The singer's "vibrant persona and a worldwide appeal is something we love and this represents another positive step in the right direction for the brand."
Davido in turn said he is super excited to be part of 1XBET vision. "I'm a massive fan of soccer. So this partnership brings me closer to the things I have passion for. I am particularly excited to be a part of this new journey and I am looking forward to working with 1XBET," he said.
1XBET is a unique betting platform that offers punters a huge welcome bonus, great bet odds and fast payment on winnings.
Most sports lovers and bettors can get exciting gaming experiences on pre-match, in-play and virtual games across sporting events such as basketball, football, volleyball, Tennis, Hockey and others.