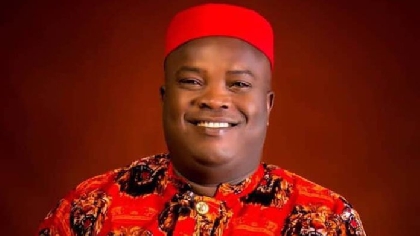 For Adigwe, to change the world with music, lyrics are very important...
Award-winning gospel artist, Austin Adigwe shares with Nigerians his passion for music, how he started singing, and also about gospel music in Nigeria. He sees a lot of opportunities in music, believing that people can change the world through music.
Adigwe started his musical career when he was young, singing about hope and love. He has continuously appealed to youths to shun violence, noting that all the vices prevalent in Nigeria are consequences of the sustained absence of love for one another.
Speaking in an interview with ThisDay, he informed Nigerians that he started his music career early in life.
"Passion for music resonates in my childhood and teenage memories, colored with a membership of various cultural dance groups, church choir, and college brass band. I began playing instruments like the clarinet/tuba at age 14, drums at age 16 and the keyboard at 20," Adigwe said.
When he started singing in 2019, there were up to 30 songs at his disposal.
"By 2016, I had started using my situation and immediate environment to compose inspirational songs with perfect characterization in gospel music.
"So, when, in 2019, I decided to start recording, I had a pool of over 30 songs, each speaking to a specific aspect of life with biblical reasonings to inspire, support, and encourage oneness. I had to search online for music producers and God ordered my footsteps to my prolific producer Duktor Sett."
Adigwe has made a big impact with his songs in just three years. He sees this accomplishment as the work of God, and some efforts on his part. Take, for example, the year 2013.
"In 2013, the inspiration to transform thoughts to songs began to manifest more and I could communicate with songs. Then came the bigger challenge of how best to channel the newfound energy.
For Adigwe, to change the world with music, lyrics are very important. This for the singer means success. He has won awards (Silent Heroes Award), sold more albums than he anticipated in a short while.
"I am always conscious of my lyrics to ensure that the messages are received and interpreted as intended. Every song of mine has lyrics that depict the letters and spirit of the Holy Bible to create congruence between what God desires of us and the contents of my music. Other important factors are originality of my songs, simplicity, absence of conflict with established teachings of Christ, and intensity of promotion."
The singer has released two songs in response to the hate crisis in the world and Nigeria in particular.
"These songs appeal to our conscience to drop all forms of detestation and embrace love, for a happier and better world. They are titled "A Great God" and "Love in Crisis."
Other singles from Adigwe include "My Praise", "Chioma", "Jesus Never Fails", "Nonso", "We Adore You", "You Alone Can Heal", "In You Alone I Trust", "A Call to Love" and "The Risen God".