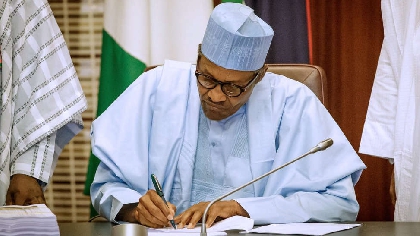 Also, news from Lagos...
Let's start the news by telling you that the proposed removal of fuel subsidy will no longer go ahead, at least for another 18 months.
This is the latest decision by Nigeria's Federal Government.
Minister of State for Petroluem, Timipre Sylva made the announcement yesterday at a Special Press Conference in Abuja.
He says the decision comes after wide consultations with stakeholders and the need to instill measures to cushion the effects of the removal when finally in place.
And in a swift response, the Nigeria Labour Congress says it will no longer go on with its planned nationwide protest scheduled for Thursday, 27th January 2022.
The NLC took this decision at the end of its National Working Committee meeting with stakeholders, members and affiliates unions.
Addressing journalists in Lagos, NLC Chairman in Lagos, Funmi Sessi, is demanding that the federal government should re-engage the organised labour in discussions,
She says this will ensure both parties find mutually acceptable solutions to the current challenges in Nigeria's downstream petroleum sub-sector.
The Lagos State government has suspended activities of the National Union of Road Transport Workers at Eyin Eyo, Church Street and Idumota Bridge indefinitely.
This comes after the recent violence in those areas.
Special Adviser to the Governor on Transportation, Hon. Oluwatoyin Fayinka, made this known on Tuesday in a statement.
He says the decision was taken to prevent further acts of violence at Idumota, adding that the Lagos State Parks Monitoring Authority would resume at Eyin Eyo.
And finally
The controversy over the rejection of the Electoral Act Amendment Bill by President Muhammadu Buhari may be over.
This is because the National Assembly has passed the harmonised version of the bill.
The harmonized version amends the controversial Clause 84 of the bill. It now includes the direct, indirect, and consensus primary modes of nominating candidates by political parties for elections.