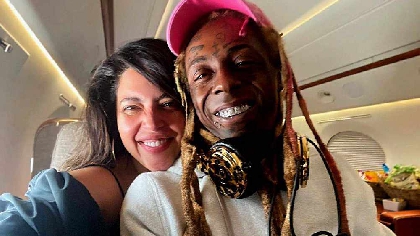 Rapper shared a video of Bidot drawing a heart in the sand
Grabbing the headlines when you're (not-too-long-ago) out of prison is not easy. But it is easy for the Cash Money legend, Lil Wayne who is otherwise known as Weezy.
He calls himself "Happiest man alive!" in a tweet that you can see below.
Looks like Lil Wayne & Denise Bidot tied the knot 💍 👀 pic.twitter.com/BTKWgddwyK

— HipHopDX (@HipHopDX) April 20, 2021
Lil Wayne is apparently off the market for good. On Tuesday (April 20), the Cash Money legend fired off a tweet indicating he'd married girlfriend Denise Bidot and gave a nod to Outkast in the process.
HipHopDX reported that for months, people assumed the couple had called it quits after what appeared to be a public breakup on social media. But last week, Lil Wayne and Bidot returned to Instagram with a lovey-dovey post, indicating they were still very much a couple.
Taking to his Instagram Stories, the multi-platinum rapper shared a video of Bidot drawing a heart in the sand and writing "Denise and Dwayne" in the center. She looked at the camera and blew him a kiss before it came to an end.
The couple first went public with their relationship in June 2020 after Bidot shared a series of photos to her Instagram Stories cozying up to Weezy.
"Somehow in the middle of the madness, something special happened," she wrote. "Us."