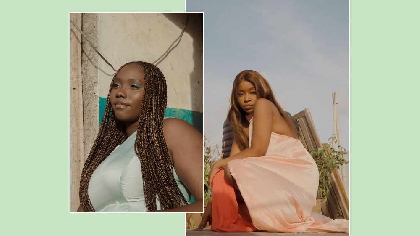 Kan Àwa's work is happening at an opportune time
Music producer Olayinka Owoseni and sound designer Yvette Ogungbe are busy inside their central Lagos, Nigeria, office, working on pushing Afrobeats, West Africa's hip-hop, dancehall, and reggae-inspired sound out into the world.
Their interest, according to CNTraveler, is to schedule virtual performances for emerging artists, create live recording sessions for top producers, and comb through and record hours of footage and interviews to help tell (and sell) the Afrobeats story.
"Our mission," says Owoseni, "is to document our history and preserve our culture for us, by us."
These women founded Kan Àwa about a year ago. The organization is a creative marketing agency focused on promoting music.
Ogungbe's father, Kenny, was a Nigerian immigrant and DJ in Los Angeles. His gut told him that the genre would be huge—so he moved back home, and along with his partner, Dayo Adeneye, created the infrastructure that would turn the nascent genre into a homegrown phenomenon. They created radio stations, music TV channels, and their KENNIS Music record label, which would go on to launch the careers of Afrobeat superstars like 2Baba, The Remedies, and others.
"Seeing all the sacrifices they made was really inspiring," Ogungbe says. "They left their lives in Los Angeles and moved back to Lagos to build an industry that no one had faith in."
Kan Àwa's work is happening at an opportune time to get Afrobeats out there as well. With increased smartphone penetration and broadband connectivity in the last decade throughout Western Africa, platforms like YouTube, SoundCloud, and Spotify.
Among other things, they also hope Kan Àwa can bring more female artists to the top. "Tems is going to do such great things," Owoseni says excitedly of the young singer, songwriter, and producer who recently found a fan in Adele. Owoseni is also looking to see the new generation of women like Ayra Starr, SGaWD, Fave, and Solis, to build upon the genre in new ways.
"It's going to be so beautiful," says Owoseni of how she thinks Nigeria's music scene will evolve.